News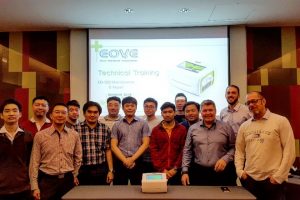 EOVE is specialized in the design and manufacturing of medical devices with high innovation and technical excellence. In order to keep a good level of performance and support, every partner attends a user & technical training.
From february 12th to 14th, 2018 EOVE welcomed its Asian partners in BANGKOK for the technical training of the EO150 ventilator. Around 15 technicians and engineers coming from South Korea, Taiwan, Thailand, Malaysia and Indonesia, were present.
Lucas DELPLAN, Customer Support Engineer, led the training with Jean LEROUX, Sales and Marketing Director, with various topics on the agenda about maintenance operations such as software updates, troubleshooting, repair, and performance controls of the EO150 ventilator.
EOVE thanks all the trainees for their involvement during those three days, and will continu to support them through technical assistance and expertise.