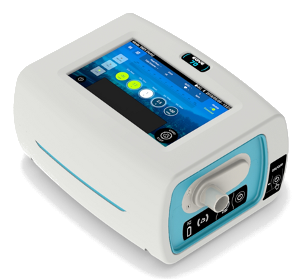 COMPLETE AND ADAPTIVE TREATMENT
Thanks to its design and its HD graphic interface, the secretion management device EOVE-70 offer to patients and care givers an easy of use
His design, based on a station with a removable module of only 2kg, able to work with internal battery, gives unrivalled mobility solutions.

The EOVE-70 High performance allows you to set pressures from -70 to +70 mbar
Dual modality are achievable with this device :
An in-exsufflation mode – INEX
A Pressure relief maneuver mode – PRM
Ajustable oscillations
Three customizable presets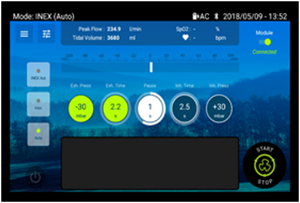 INTUITIVE INTERFACE
You can set the treatmentthanks to a 7 inch HD touch screen.
This screen allows a simple access to setting and a visualization of monotiring.
These settings can be modified directly on the home screen for a quick treatment close to the patient.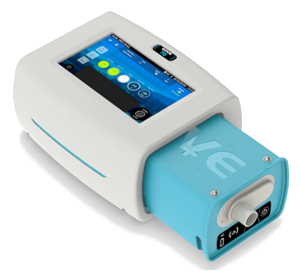 IMPROVED CONDITIONS OF TREATMENT
The EOVE-70 purpose a extractible module of treatment for a minimal clutter and a better portability.
The EOVE-70 contain an internal battery for an closer patient use and allows an autonomy of 4 sessions.
Weight
Size
Dock
1,6 kg
25x21x13 cm
Module
1,8kg
24,5×14,5×10 cm
Screen
7 inch, touch screen, coulors, HD
Operational modes
INEX:Mechanical Inexsufflation
PRM:Pressure Relief Meneuver
Therapy modes
Automatic/Manual
Automatic
Oscillations
ON/OFF during inspiration
Frequency: 4 to 20 Hz
Amplitude : Low / Medium / High
/
Monitoring
SpO2 / Tidal Volume / Peak Flow
Inh. Pressure
5 to 70 cmH20
Flow
5 to 100 l/min
Inh. Time & Exh. Time
0,5 to 5 sec
Max Pressure
5 to 70 cmH20
Rampe
1 to 3
Max Time
0,5 to 5 sec
Trigger
OFF /1 to 3
PEEP
OFF / 1 to 20 cmH20
Pause
OFF / 0,5 to 5 sec
Trigger
1 to 3
PEEP
1 to 20 cmH20
Exh. Pressure
0 to -70 cmH20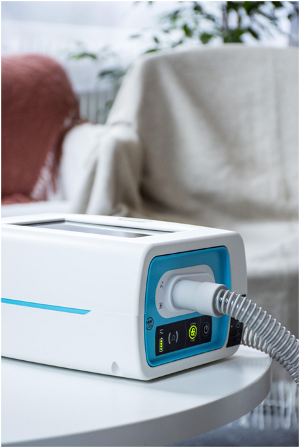 FOR THE PATIENT AND FAMILY
Thanks to the EOVE-70, the patient depend on only one device compact and light with a performant relief pressure maneuver mode, allowing a minimal clutter.
The internal battery allows the patient to realise its treatment without depending on a power outlet, in a familiar and comfortable environment.
When the patient depends on different treatments, the customizable preset help him to choose one quickly.
FOR THE CLINICIAN
The intuitive interface allows the clinician to easily adjust the treatment.t.
Thanks to the three customizable presets, the clinician can memorize differents treatment for the patient.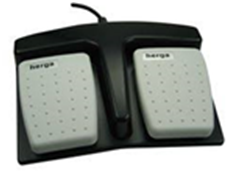 The footswitch give to the physiotherapist a freedom of movement for manipulate the patient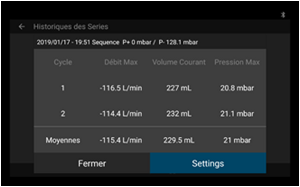 The clinician has an access on the home screen to a session background :
Max Flow
Tidal Volume
Max Pressure
FOR HEALTHCARE PROVIDERS
With a 2 in 1 device, the EOVE-70 allows the healthcare providers to optimize their cost and their stock.