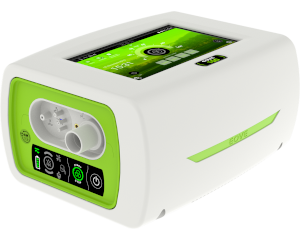 EO-150
Life support ventilation
With its design and intuitive graphic user interface EO-150 ventilator combines efficient therapy and ease of use for clinicians and care givers
Monitoring and therapy solution
The EO-150 allows clinicians to monitor their patients' vital constants and create associated alarms for greater safety and effectiveness.
The EO-150 ventilator offers a wide range of configurations:
simple and double branch,
with valve and with leaks,
including a large choice of ventilation modes.
Based on an innovative blower design with fast response time down to 80ms, EO-150 ventilator offers best in class ventilation features for pediatric and adult patients with smart sensitive triggers and a wide range of tidal volume from 30 to 2500ml.
Combining single or double branch circuit with tidal volume down to 30 ml and respiratory rate up to 80 bpm, EO-150 ventilators offers great performance to treat newborn patient.
Intuitive graphic user interface and ease of use
7″ colour touch screen
Intuitive and responsive settings based on patient profile, his interface and circuit configuration
Backup up to 4 programs
Ventilation modes according to the pathological profile of the patient and the treatment needed
Program accessible from the patient screen
Freedom and mobility
The EOVETM Click & Go Concept based on swappable EO-Vent Module offers a wide variety of mobility solutions.
1.8 kg
5 hours of built-in autonomy
Avoids the risk of disconnection
Without interruption of treatment

EO-150 is a Classe IIb medical device – Manufacturer : EOVETM – GMED 0459 – EO-150 provides continuous or intermittent ventilation assistance for adults and children weighing 3.5 kg or more, requiring invasive or non-invasive mechanical ventilation, at home or in hospital. – Read the user manual – March 2021

Dimensions
Weight
Size
Docking
1,6 kg
25x21x13 cm
Module
1,5kg
24,5×14,5×10 cm
Screen
7″, touchscreen, color, HD
Setting
Adult
Pediatric
Notes
VT (ml)
300-2500
100-2500
30-600
100-600
For active and passive circuits.
For mouthpiece circuit.
Pres. Control. (mb)
5-491
5-491
–
Pres. Support (mb)
5-49
5-49
–
IPAP (mb)
6-49
6-49
–
PEEP (mb)
OFF / 1-25
OFF / 1-20
–
EPAP/CPAP (mb)
4-252
4-20
–
Rate (c/min)3
5-604
5-805
–
I Time (s)
0.3-2.5
0.3-25
0.3-2.5
0.2-2.5
For active circuit.
For passive circuit.
Pres. Slope
1-5 (100-500ms)
1-5 (50-250ms)
–
I Trig.6
AUTO / 1-5
AUTO / 1-5
–
E Trig. (%)
AUTO / 10-90
AUTO / 10-90
–
Flow Slope
1 (Rectangle), 2 (Decelerating)
–
Vt Target7 (ml)
(A)PCV, PSV VT and VTS modes only
–
VT Target Speed
1-3
1-3
–
Sigh8
ON / OFF
ON / OFF
–
Sigh VT Coef.8
1.5 – 2.5
1.5 – 2.5
–
Sigh Interval8
50 – 250
50 – 250
–
Bias Flow (l/min)
OFF / 1-20
OFF / 1-20
For mouthpiece circuit.
Flow (l/min)
10-60
2-25
For passive circuit
1Limited to 48 in (A)PCV mode.
2Limited to 20 in CPAP mode.
3Possible to set OFF only in S(T) mode.
4Limited to 40 in V-SIMV and P-SIMV modes.
5Limited to 60 in V-SIMV and P-SIMV modes.
6Possible to set it OFF in (A)VCV, (A)PCV and PAC modes.
7Possibile to set it OFF in (A)PCV and PAC modes.
8Available only in (A)VCV mode.
Setting
Adult
Pediatric
Notes
VT (ml)
300 – 2500
30 – 600
–
Pres. Control. (mb)
5-48
5-49
5-48
5-49
Only in (A)PCV.
All the other modes.
Pres. Support (mb)
5-49
5-49
–
PEEP (mb)
OFF / 1-25
OFF / 1-20
–
Flow Slope
1 (Rectangle), 2 (Decelerating)
–
Pres. Slope
1-5 (100-500ms)
1-5 (50-250ms)
–
Rate (c/min)
5-40
5-60
5-60
5-80
Only in V-SIMV and P-SIMV modes.
All the other modes.
I Time (s)
0.3-2.5
0.3-2.5
–
I Trig.
OFF / AUTO / 1-5
OFF / AUTO / 1-5
OFF only in (A)PCV and (A)VCV modes.
Exp. Trig. (%)
AUTO / 10-90
AUTO / 10-90
–
Vt Target
(A)PCV and PSV VT modes only.
VT Target Speed
1-3
1-3
–
Sigh
(A)VCV mode only.
Sigh VT Coef.
1.5 – 2.5
1.5 – 2.5
–
Sigh Interval
50 – 250
50 – 250
–
Setting
Adult
Pediatric
Notes
VT (ml)
100-2500
100-600
–
Pres. Control. (mb)
5-49
5-49
–
Bias Flow (l/min)
OFF / 1-20 l/min
OFF / 1-20 l/min
–
Flow Slope
1 (Rectangle), 2 (Decelerating)
–
Pres. Slope
1-5 (100-500ms)
1-5 (50-250ms)
–
Rate (c/min)
OFF / 5-60
OFF / 5-80
–
I Time (s)
0.3-2.5
0.3-2.5
–
I Trig.
AUTO / 1-5
AUTO / 1-5
–
Setting
Adult
Pediatric
Notes
CPAP Pressure (mb)
4-20
4-20
–
Flow (l/min)
10-60
2-25
C-FLOW mode only.
IPAP (mb)
6-50
6-50
–
EPAP (mb)
4-25
4-20
–
Pres. Slope
1-5 (100-500ms)
1-5 (50-250ms)
–
Rate (c/min)
OFF / 5-60
OFF / 5-80
OFF only in ST mode.
I Trig.
OFF / AUTO / 1-5
OFF / AUTO / 1-5
OFF only in PAC mode.
E Trig. (%)
AUTO / 10-90
AUTO / 10-90
–
I Time (s)
0.3-2.5
0.2-2.5
–
VT Target (ml)
300-2500
30-600
VTS mode only.
VT Target Speed
1-3
1-3
–